In just days after reports of  alleged gangrape in Bulandhsahr , a video showing  around  14 men  grope and molest two girls in Rampur , went viral on Sunday. The footage  also cites the  men laughing and cracking jokes at the distraught victims during the assault.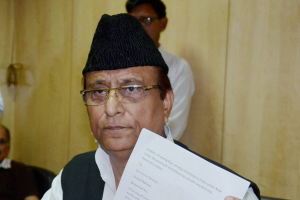 Following the upload, the former Uttar Pradesh(UP) minister Azam Khan  in a startling response said  that he was not surprised by the Rampur incident and that taking cue from Bulandhsahr molestations, families should keep girls indoors to avoid such incidents.
The girls too were not spared of critical view as the minister advised "Girls should avoid  places where shamelessness dances nude"
The Jewar-Bulandsahr incident involves a family of eight who were enroute Jewar highway to  Bualnsahr when a gang of five ambushed them. The family alleges the criminals first looted cash and valuables, then went on to rape four women from the group. Police had earlier taken 5 men into custody  and have arrested one and said all culprits will be nabbed soon.
Meanwhile the crude remarks from Azam has drawn flak from political circles and women's organisation.
In 2016 Azam had labeled  gangrape of a mother and her teen daughter  last July ,  as 'political conspiracy ' to malign the ruling Samajwadi Party government.
In that instance, he escaped trouble after submitting 'unconditional apology for the remark'  in Supreme Court.