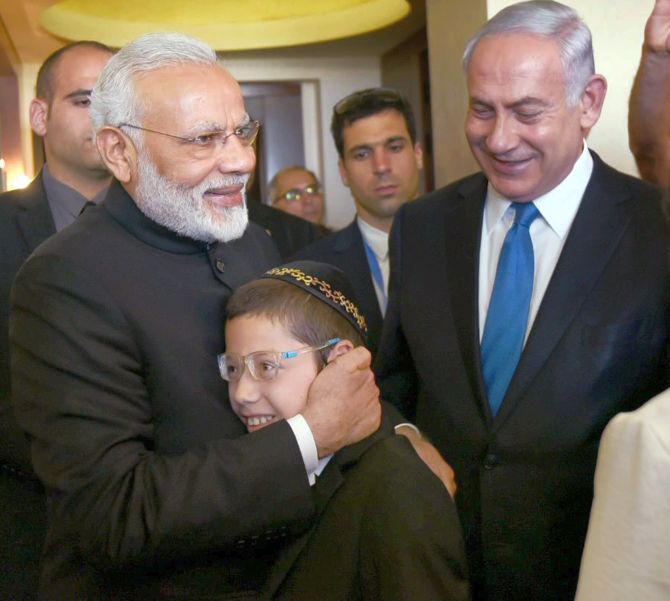 Prime Minister Narendra Modi enters third day of his visit to Israel in the last leg of globe trotting to meet with world leaders.
Today Thursday, Modi will pay homage to Indian soldiers who fought the World War I in 1918 in the renowned Battle of Haifa to protect Haifa from advancing forces of Ottoman.
Every year on 6 July, the Indian Army celebrates Haifa Day to pay respect to the martyred Indian soldiers, the Battle of Haifa being considered in history as one of the most bravely-contested battles of World War I.
Pro India Moves So far
On Wednesday, India and Israel signed seven agreements to augment cooperation in sectors of space, agriculture and water conservation.
Modi also addressed the Indian diaspora and announced a new flight service connecting New Delhi,
He also said an Indian Cultural Centre would soon be opened in Israel and that those from Indian community who were part of Compulsory Army Service Army Service would be given Overseas Citizen of India(OCI) cards from now on
A memorandum of Understanding(MoU) was signed between Department of Science and Technology and Israel's National Technological Innovation Authority for setting up India-Israel Industrial Research and Development(R&D) and Technical Innovation Fund, a project worth US $ 40 million.
The two countries will also come together in Atomic Clocks with cooperation between Indian Space Research Organisation(ISRO) and the Israel Space Agency(ISA)
Both countries pledged to step up efforts to combat terrorism.
On a tender note PM Netanyahu offered to carry the Israeli child who survived 2008 Mumbai terror attack, in his aircraft on his next visit to India.